Costa Rica Bibione Aparthotel is...
It's really hard to explain who we are in just a few lines! Let's give it a go, anyway... We are a group of people working together to offer you all the ideal vacation in Bibione. When we say 'you all', what do we mean?
We mean people who want to put family photos in their album dedicated to "That year we went to Bibione, had tons of fun and recharged our batteries to the max". We mean people who want their four-legged bestie to be in the holiday snaps.
We mean people who want to be "immersed in nature" and wish to embrace eco-sustainable tourism.
We mean people looking for an establishment which embraces an all-inclusive vacations, where structural barriers are not an issue.
We mean people who want to push the full relax-mode button, and enjoy the beach, pool, spa and trips, top up on things to see and do, and embrace the "Don't stop me now!" philosophy.
If you are any of these people, we'll be more than happy to make all of this happen at the Costa Rica Bibione Aparthotel, your holiday-experience. This is what we stand for, and we are here to make your dream holiday come true.
Choose your holiday-experience
Our guests often find us online by typing in "holidays apartments in Bibione" or "aparthotel in Bibione". When they get here, they discover that they have not only booked a fantastic accommodation, but also a holiday-experience. What are you looking for?
Start planning your holiday experience!
Fill in this form and we will send you our best offer for our holidays apartments as soon as possible
Reviews
Why choose our Aparthotel in Bibione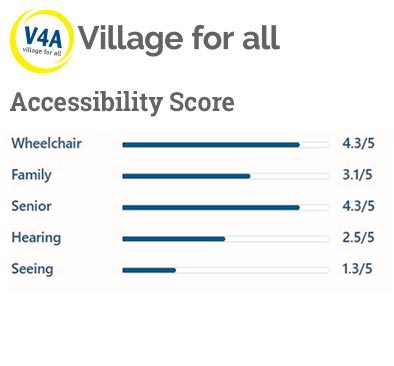 "Where a person with a disability lives well, we all live better."
Bibione, towards an increasingly inclusive future
The words of Vincenzo Zoccano, spoken at the first G20 of the Italian Beaches, were collected by Bibione and made the goal of an important project that aims to make the seaside resort the first totally inclusive tourist destination in Italy.

In fact, in Europe, over 140 million people with disabilities are still struggling to find destinations capable of responding - in terms of structures, services and staff competence - to their specific reception needs.

The initiative of Bibione moves precisely from the in-depth analysis of these data and from the implementation of the tourist offer as a key to guarantee all guests, and their carers, the right to a holiday; in the best tradition of Bibionese hospitality and in a new perspective of full accessibility.
400
Families that enjoy our holiday apartments every year
1500
People who choose our apartments every year for their holidays in Bibione
30
Apartments to satisfy your holiday desire in Bibione